Charcuterie boards have became a great option for parties over the last few years. From sweet charcuterie boards to savory boards. Themed charcuterie boards for parties have also became popular with your favorite finger foods on them, from a regular cheese platter or classic charcuterie board to the fancier themed boards with different shapes and sizes. – "Beef Charcuterie Board"
The best part of these charcuterie boards are that they can be made anyway you'd like. There is no wrong way to make these boards, only fun ways to create a board to match your taste buds.
You can make a dessert board, for example a S'mores charcuterie board. Maybe, a breakfast charcuterie board, there are so many ideas.
However, the best charcuterie board is one that you make and give away to a special person!
And whether your charcuterie platter is for your best friend or for a large crowd, it may take a little bit of planning for the perfect board. But, it will be a great appetizer or even a main course!
Before, I tell you my top meats, cheeses, jams and condiments for a charcuterie board, let's understand what a charcuterie board is.
The hardest part for me is pronouncing the word, lol, but these boards have become very popular.
How do you pronounce charcuterie?
Charcuterie (in English) is pronounced "shahr-koo-tuh-ree". Charcuterie is a fancy word for "cured meat". The term charcuterie comes from two French words: the first French word is "chair" which means "flesh," and "cuit" which means "cooked."
Typically, a charcuterie board or cheese board will have your favorite meats, different types of cheeses, sweet jams (or your favorite jams), seasonal fruit, dried fruit, variety of nuts and crackers.
Of course, not limited to these items there is no wrong way to assemble a charcuterie board or what to add to one.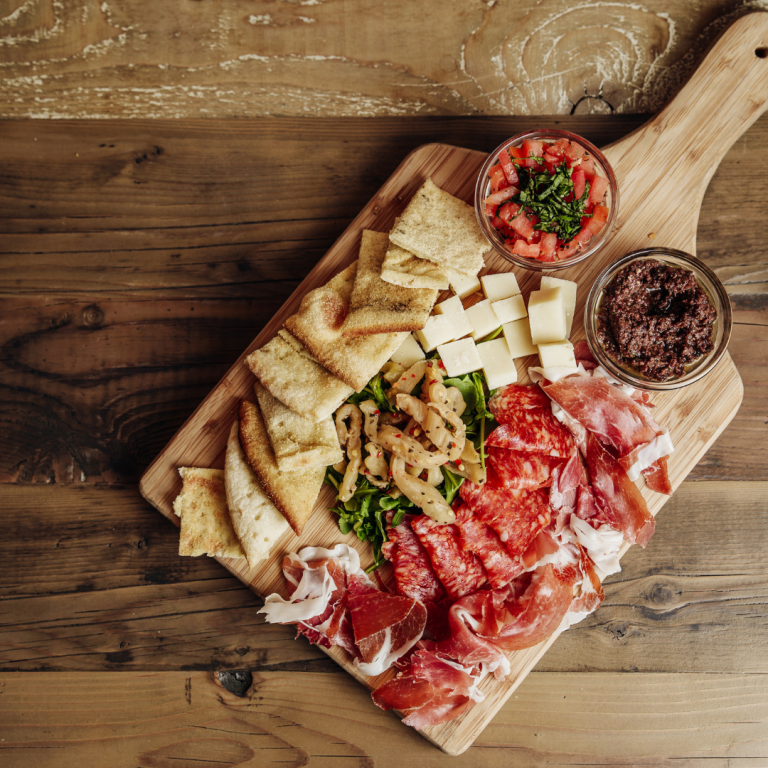 What is a charcuterie board?
A charcuterie board is an appetizer typically served on a wooden board or stone slab, either eaten straight from the board itself or portioned onto flatware. It features a selection of preserved foods, especially cured meats or pâtés, as well as cheeses and crackers or bread. (Wikipedia)
Course: Appetizer
Main ingredients: Charcuterie, cheeses, breads, fruits, vegetables, nuts, spreads
Serving temperature: Cold or at room temperature for those outdoors charcuterie boards
What is on a charcuterie board?
variety of meats or deli meats
soft cheeses
aged cheddar
hard cheese
sharp cheddar cheese
black pepper honey brie
savory jams or your favorite jams
sweeter jams and any kind of jam
savory sauce
hot pepper jelly
roasted red peppers
fresh fruit or veggies; cherry tomatoes
dried fruits
fruit preserves
fruit spreads
variety of crackers, whole-grain crackers or small slices of bread
variety of olives
variety of nuts
any of your favorite condiments
What condiments go on a charcuterie board?
My top 7 and more!
honey mustard
tangy mustard blends
whole grain mustard
cream cheese
olive oil
balsamic vinegar
sour cream, pickle relish
maple syrup or any sweet syrup
any savory dip
tahini sauce
any sweet condiments or savory condiment
variety of jams (listed below) for example: fig jams
Do I need cheese on my charcuterie board?
A beef charcuterie board will usually have a variety of cheeses from 4-6 different types on them, but you can make one without cheese.
If someone that you are making a charcuterie plate for, like for the holiday season, is lactose intolerant or has other dietary needs then leave out the cheese tray part of the board and add extra cured meats or sweet fruit. You can check out the different options at your local grocery store.
What type of cheese for a charcuterie board? Here are the best cheeses!
mild cheese
sharp cheese
aged cheese
creamy cheese
parmigiano reggiano
brie cheese
savory cheeses
fresh cheeses
vegan cheese
milder cheeses
fresh goat cheese – my favorite cheese
sharp blue cheese
Question – What kind of meat for a charcuterie board? Different Meat Options for a Charcuterie board!
The best types of meats are the pre-sliced meat products that come in different varieties.
Prosciutto
Pepperoni
cold cuts
hard salami or harder meats
calabrese salami
summer sausage
Rillettes
Ham
Saucisson Sec
Turkey
Sopressata
Genoa Salami, dry salami
Mortadella
Spanish chorizo
Pork sausage
beef jerky
roast beef
lean beef
duck prosciutto
beef sausage
wild game
dry-cured pork neck
jamon serrano
prosciutto di parma
What are 5 tips to making a charcuterie board?
Choose a wooden cutting board, tray or box
Choose easy to find ingredients – choose a variety of flavors
Find pre-sliced or pre-portioned ingredients.
Use a picture for a reference
Choose an assortment of bright colored fruits and vegetables
Choose small bowls or containers and cheese knives
A great addition is to include something sweet like chocolate or cookies
How do you fold meat for a charcuterie board?
Folding pieces in quarters and then fanning them out on the board makes the pieces easier to pick up, plus makes a prettier arrangements. Don't be intimidated on how to make these cute meat pieces, just go to the internet and you can find simple instructions for folding meats on a beef charcuterie board.
What kind of jams for a charcuterie board?
Typically, the commonly used jams are apricot jam and fig jam. But, finding the right jam is not hard if these 2 jams are not your personal preference. To add the jam to your board find cute little containers and set or scatter them around your board to fill any gaps. You can find mini little spreading knives to add to your board for easy serving. Here are a few different types of jams:
peach jam
cherry jam
strawberry jam
pear jams
raspberry jam
caramelized onion jam
The concept of a charcuterie board can almost be overwhelming. Experts say to have jam pairings and cheese pairings, but one of the easiest ways that I have found to making a beef charcuterie board is to just add what food items that you enjoy and don't let it be hard.
For the perfect charcuterie board choose your flavor combinations of various cheeses, various meats, fruits, nuts and different types of jam.
Try new bold flavors, plus there is a wide variety of popular jams or a fig spread at the grocery stores.
However, the most important factor is to enjoy making these neat little boards or even placing it all into cute little brown boxes with a pretty ribbon. So, enjoy and remember that anyway that you make them is the correct way.
Top 3 Best Jam for Charcuterie Board
2. Stonewall Kitchen Classic Sampler Collection
3. Le Must Organic French Preserves Assortment Mini Jars (Strawberry, Raspberry, Apricot, Blueberry, Orange Marmalade, Mango Passion)
Check out our other charcuterie board post!
What is the best jams for a charcuterie board