Do you need an EASY dumpling recipe???
If you answered YES, I have a delicious recipe for you! Dumplings are the ultimate comfort food, plus this recipe is easy and has only 4 ingredients. A meal for those busy weeknights that the whole family will LOVE! "Easy Cream of Chicken Dumplings with Chicken Breast"
Are chicken and dumplings hard to make?
No! This is one of the easiest recipes with boneless chicken breasts and a can of cream of chicken soup (or 2 cans of soup) that you will find.
What ingredients go in chicken dumplings?
Chicken breast
Chicken broth or chicken stock
water
Cream of chicken
Biscuits
Seasoning: salt, black pepper and onion flakes or onion powder (optional, but it adds flavor)
Optional: can of cream of mushroom soup
Optional seasonings and flavor: garlic powder, Italian seasoning, heavy cream, parmesan cheese, cream cheese, sour cream, tablespoons of butter, fresh parsley, red pepper flakes, garlic cloves, sun-dried tomatoes or diced green onions
What side dishes go with chicken dumplings?
Of course, chicken dumplings are a complete meal within themselves, but you can always add a side dish and here are a few ideas:
Garden salad
Brown rice or wild rice
White rice
Side of veggies
Garlic bread
Cornbread muffins
Saltine crackers
Green beans
Egg noodles
Zucchini noodles on the side and leave out the dumplings for those on a low carb or keto diet.
Cauliflower rice on the side and leave out the dumplings for those on a low carb or keto diet.
What makes a creamy sauce?
Really it's just some basic ingredients and allowing the sauce to simmer until it thickens. A blend of chicken broth, cream of chicken soup and seasonings is the perfect sauce for any chicken dish. The cooking time will vary, but a slow simmer will enhance the flavors of this chicken dinner.
Chicken and Dumpling Q&A
Will I have to cook my chicken breasts before I make my chicken and dumplings? Not if you are using the canned chicken breasts. Be sure to read the label, but canned chicken is fully cooked. However, if you would like to make chicken and dumplings with boneless skinless chicken breasts, then you will need to cook the chicken. You can take a large skillet, add a little olive oil over medium heat and cook until the internal temperature of the chicken breasts is 165 degrees f with an instant-read thermometer or meat thermometer.
Be sure to not overcook the chicken breasts which will make the meat dry. Juicy chicken breasts are the best part of this easy recipe. Plus, you can scrap the bottom of the pan and add that to the cream sauce for the dumplings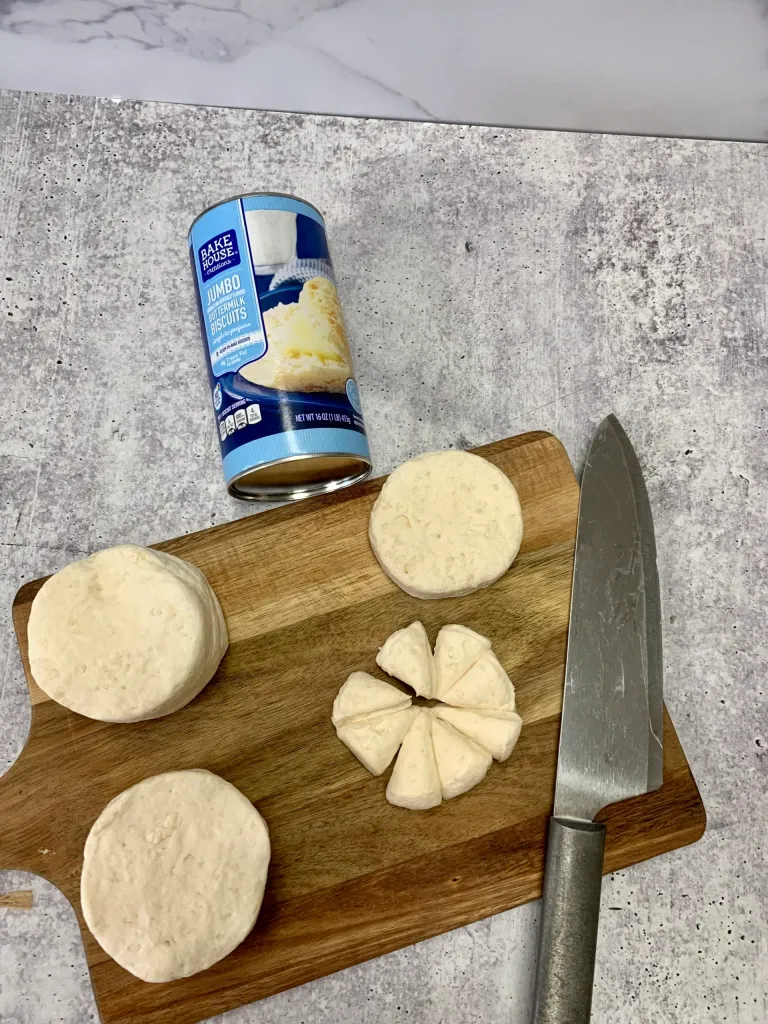 Can I eat leftover chicken and dumplings? Can I eat chicken and dumplings the next day? Yes, as long as the meal is refrigerated and not left out at room temperature. Place the leftovers in an airtight container or a baking dish covered with plastic wrap. Then, place dish into the refrigerator for up to 3-4 days and up to 3 months in the freezer.
Can I use tender chicken breasts for chicken and dumplings? Yes, in the freezer section of your local supermarket there are bags of raw chicken breast tenders. You will need to cook the chicken tenders before you make this dumpling recipe.
Are chicken and dumplings ok for special occasions? Yes, this comfort food is great for any occasions!
Can I use chicken cutlets for chicken and dumplings? Yes, as long as you cook them before you make this easy chicken recipe.
Can I use boneless skinless chicken thighs for chicken and dumplings? Yes, as long as you cook the boneless chicken thighs before you make your creamy chicken recipe.
Do I need thin chicken breasts or large chicken breasts for this chicken bake? Either size of chicken will work, just be sure to cut the chicken into smaller pieces and cook until internal temperatures reaches 165 degrees f. The cook time will vary, but what is important is the internal temperature.
Just take a sharp knife and cut up the chicken into smaller pieces. Cook over medium-high heat in a little oil until fully cooked.
What supplies do I need to make chicken and dumplings? A large pot and a wooden spoon. Plus, your recipe card ingredients.
Can I use canned chicken breasts in creamy garlic chicken? Yes, canned chicken breasts is easy to cook with because it is already fulled cooked.
So, next time that you need an easy dinner recipe make this great recipe! You will have a delicious dinner tonight, plus extras for the week and it will become a family favorite recipe that is quick and easy!
Yield: 10-12 servings
Cream of Chicken Dumplings with Chicken Breast
Super easy 4 ingredient Chicken & Dumplings!
Prep Time 5 minutes
Cook Time 10 minutes
Total Time 15 minutes
Ingredients
2 - 12.5oz cans of chicken breast
2- 10.5oz cans of cream of chicken
2 - 8 count cans of jumbo biscuits
32 oz chicken broth
4 cups of water
1/2 tsp salt
1/2 tsp black pepper
2 tsp onion flakes or dried minced onion
Instructions
Take a large pot and add the chicken broth, water, cream of chicken, cans of chicken breast and seasonings
Bring soup mixture to a boil
While soup mixture is beginning to cook, cut up each biscuit into 8 pieces
Once soup mixture begins to boil add the cut up biscuit pieces to the pot and stir
Reduce the heat and stir until dumplings are done
May take 6-8 minutes for dumplings to cook.
Spoon out one dumpling and cut it in half. It should be done and not doughy.
Remove from heat and spoon up into bowls
Enjoy!
Try another cream of chicken soup recipe!
Cream of chicken mac & cheese with chicken breasts
"Easy Cream of Chicken Dumplings with Chicken Breast"