This ButterFinger Caramel Cake is a recipe I got from my Grandmother, Nene Barbara. I really love this cake so much that I make it just about every year for my birthday. This recipe is very simple, because it's just a boxed cake mix with sweetened condensed milk, caramel, whipped topping and butterfingers.
Recently, I found out that these cakes are called a "Poke cake". It's funny, because I didn't know this, so for all those years we called this cake the "Butterfinger cake". However, in the last few years or maybe many more these cakes have been called poke cakes, because you "poke" holes in the cake to allow the sweet sauce or whatever you pour on top to soak in. YUM!
Choose Different Candies
You can also use different candies besides Butterfingers, like Heath bars, Almond joys, Snickers, Reese Cups, Milky Ways, M&Ms, Twix, or Hershey bars. But, instead of crushing the candies, some of them you may have to chop up with a knife.
If you prefer cookies or Oreos, you can use that instead. And, instead of caramel sauce, use chocolate sauce. Another way to make the cake is to make cupcakes with the recipe.
Follow us on Social Media
PIN this recipe to save for later!
Butterfinger Caramel Cake Ingredients
Cake mix
Sweetened Condensed Milk
Caramel
Whipped Topping
Butterfingers
Directions
First make your cake mix according to the directions on the box, and pour in a lightly greased 9×13 pan and bake.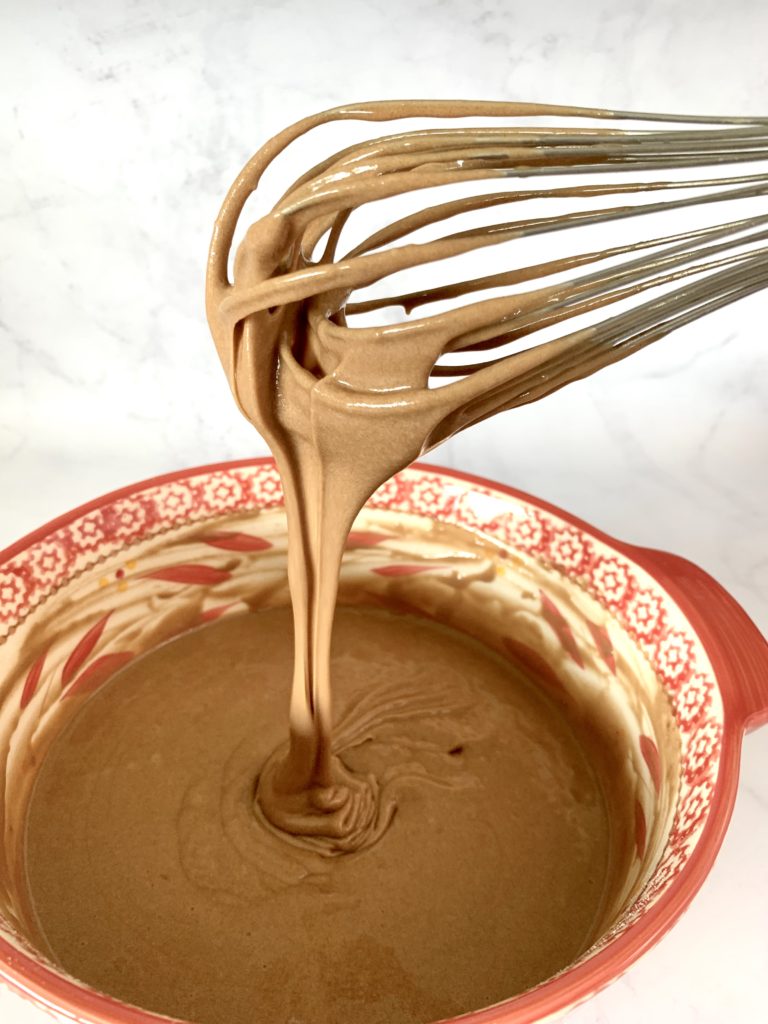 Let cool sightly until it's not hot to the touch. Then, poke holes in the cake, I use a straw, but you can use any small rounded tipped item in your kitchen.
Mom's Story of Kaitlyn Helping
As you will see, this cake has A LOT OF HOLES poked in the top of it. My daughter, Kaitlyn, came in the kitchen about the time I was fixing to poke the holes into the cake top and she wanted to poke the holes, LOL, and she poked a bunch. I got tickled, because I don't poke that many holes, but she sweetly informed me that the more holes that you poke into the cake the more sweetened condensed milk will soak into the cake. So, here we are, LOL.
Take a straw and poke holes into the cake. In the many years that I have made "poke" cakes I have used different utensils to poke holes. I have tried the end of wooden spoons and forks, but my youngest daughter, Kaitlyn, came up with the straw idea. She LOVES the Butterfinger Poke Cake. Every year on her birthday she will ask for this cake and usually she wants to make it, I know she wants to make her own birthday cake, LOL.
Now, pour your sweeten condensed milk and caramel over the cake and you may have to spread it on top with a butter knife. Then, put in the ice box for 45 minutes to an hour to cool so you don't melt your cool whip. Yes, we have found this out the hard way, lol. Watching as our cool whip slides off the cake and running the cake to the refrigerator so it can hurry and chill!
After you take the cake out of the ice box then spread the cool whip on top of the cake. Now, after you crush your Butterfingers, I use about 8 mini, but you can use more or less depending on how many you want. Then, sprinkle the crushed Butterfingers over the cool whip and enjoy.
The cake can be refrigerated up to 7 days. It will need to be refrigerated and leftovers, if you have any can be placed in the freezer. However, at our house we never have any leftovers, lol.
Choose a Different Candy or A Different Cookie:
Twix bars
M&M's
Different cookies, for example: Oreos
Heath bars
Cookies & cream candy bars
Choose any candy bar or any cookie
Tips:
A straw works great to poke holes
The more holes the better (my kids say, lol)
Best eaten cold (my kids say, lol)
Make sure the cake is completely cool before adding cool whip, because it will melt to the sides, LOL (I found this out, because I was in a hurry)
You can use a different candy or cookie. Crush up your favorite candy or cookies and sprinkle on top of the cool whip
If you have any leftovers, you can place them in the freezer.
You can also use any cake mix, instead of the red velvet cake mix. For example, try a german chocolate cake mix or a strawberry cake mix. The options are endless with all the different cake mixes and cookies.
Try a Different Cake Mix!
German chocolate cake
Strawberry cake
White cake
Chocolate cake
Carrot cake
Yellow cake
Butter pecan
Funfetti cake
Lemon cake
Orange supreme cake
Banana supreme cake
Cherry chip cake
Yield: 16-20 servings
Butterfinger Caramel Cake
This is one of my favorite cake recipes, the cake is delicious and simple to make.
Prep Time 20 minutes
Cook Time 30 minutes
Additional Time 1 hour
Total Time 1 hour 50 minutes
Ingredients
German Chocolate Cake Mix
14 oz Can of Sweetened Condensed Milk
14 oz Caramel
8 oz Bowl of Whipped Topping
8 Mini Butterfingers (Crushed)
Instructions
Make the German Chocolate Cake Mix, as directed and bake.
Let cool approx. 20 minutes, then poke holes with a straw.
Pour can of sweetened condensed milk and the caramel over the top, and spread with a butter knife.
Put in the refrigerator for approx. 30 minutes to cool so not to melt the whipped topping.
Now, smooth whipped topping over the cake and sprinkle the Butterfingers on top.
Cut and enjoy.
Be sure to check out our other dessert recipes
We would love to see what you bake using all of our recipes! Be sure to tag us @TheLazyKKitchen on Instagram!
Perfect Pie For Your Next Party or Event:
New Year's Day or New Year's Eve
Valentine's Day for your sweetheart
Memorial Day
4th of July
Thanksgiving's Day
Christmas
Wedding Showers
Baby Showers
Bridal Showers
Anniversary parties
Graduation parties
Kid's birthday parties
Birthday parties