Crispy, fried chicken drizzled with a sweet sauce packed full of flavors like ginger, pineapples and brown sugar! Not to mention that it will go great with some of my Super Easy Fried Rice. Yes, you will want to make this one over and over again! This Ginger & Pineapple Chicken is sure to please!
One of my favorite types of food is Chinese! Even though I don't eat it as often as I'd like, it's still a favorite of mine. So, when I finally learned how to make Fried Rice (which I know you'll want to make some to go with this chicken!) I knew that I needed to make some kind of crispy, crunchy chicken dish to go along with it.
I love Chinese dishes that have a sweet sauce, but that are still savory. I mean what can go better together than pineapples and brown sugar? Plus, add a little ginger for a kick…..YUM!
I mean, I'll just let the pictures do the talking
Follow us on Social Media for Recipes!!!
PIN this recipe to save for later!
I mean even the leftovers are great. I love to make a big batch of fried rice up and even some extra chicken and eat on it for a few days. Just heat it up in the microwave for a couple of minutes and yum!
I made this completely from scratch, but don't think that it's too hard, it's really pretty simple! I just started with chicken breast that I cut into small pieces, battered and fried. Then, I made a 5 ingredient sauce to go over the top of the crispy chicken and fried rice.
Ingredients & Directions –
For this dish you will need:
Chicken Breasts
Eggs
Milk
Flour
Salt & Pepper
Ginger
Brown Sugar
Pineapple Tidbits & Juice
Soy Sauce
Cornstarch
Preparing the chicken and the sauce is fairly simple. You cut your chicken breast into smaller pieces, batter and fry it. While it's cooking you can mix the sauce up and let it cook.
Start with the chicken. Cut it into pieces.
Mix your flour, ginger, salt & pepper in a bowl. In another bowl mix your eggs and milk.
Take a piece of chicken and dip it into the egg mixture and then into the flour mixture
I used a cast iron pot to fry my chicken in. Any pot or pan that is deep enough for you to cover the chicken in vegetable oil will work. Deep fry the chicken, flipping once when brown on the underside. Cook until the chicken is golden brown on the outside and no longer pink on the inside. You can take a piece out and cut it in half to test to see if the middle is pink or not.
Now, you can make the sauce. In a small pot, combine your brown sugar, pineapples and juice, soy sauce, ginger and cornstarch. Whisk it together and bring to a boil, making sure to stir it so it doesn't burn. Reduce the heat and let simmer for about 5 minutes. Sauce will thicken slightly. It's not a really thick sauce, it's on the thinner side.
Pour the sauce over the plate of Chicken & Rice and Enjoy!
Try some of our Desserts –
Yield: 4-6 servings
Ginger & Pineapple Chicken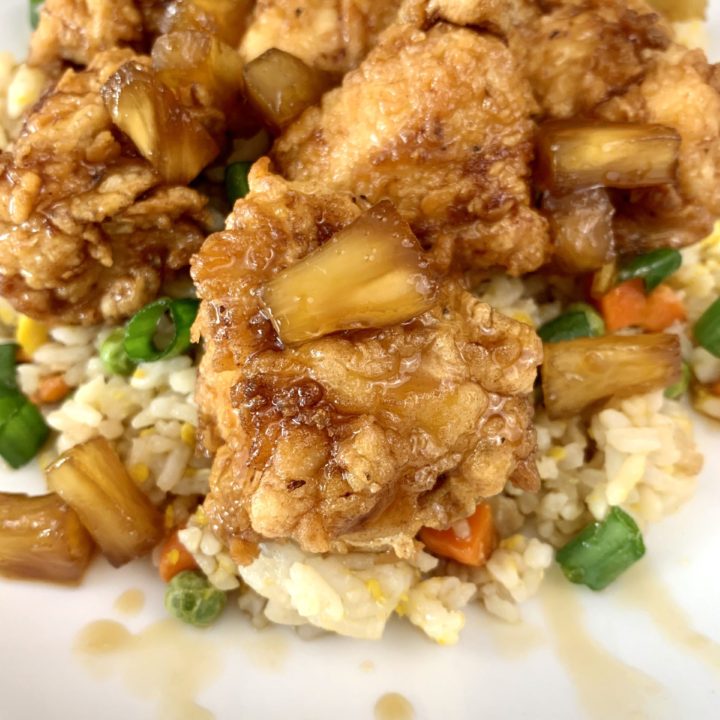 This is an amazing dish that is packed full of flavor! Pineapples, brown sugar, ginger....YUM! Serve it over a bed of fried rice and dinner will be complete.
Prep Time 15 minutes
Cook Time 20 minutes
Total Time 35 minutes
Ingredients
Chicken
4 Chicken breasts
2 Eggs
1/2 C Milk
2 C All-Purpose Flour
1/2 tsp Salt & Pepper
1 tsp Ginger
Sauce
1 C Brown Sugar
1 C Pineapple Tidbits and Juice
1/4 C Soy Sauce
1/2 tsp Ginger
1 TBS Cornstarch
Vegetable oil (For frying the chicken)
Instructions
Cut your chicken breasts into pieces.
Mix you egg and milk in a bowl.
In another bowl, mix your flour, salt, pepper and ginger.
Take your pieces of chicken and dip them into the egg mixture and then into the flour mixture.
Fill a pot with at least 3-4 inches of vegtable oil, enough to cover the chicken. Allow oil to heat before you add the chicken.
Fry the chicken until nice and golden brown on the edges and the middle is pink no more, flipping once while cooking.
Add all of the sauce ingredients to a sauce pan and bring to a boil.
Reduce the heat and let simmer for about 5 minutes. (sauce will thicken slightly, but it's not a very thick sauce at all)
Serve over a bed of fried rice and enjoy!
We would love to see your version of our Ginger & Pineapple Chicken or any other dish that you create using recipes from our page! Be sure to tag us @thelazykkitchen on Instagram so we can see!