Can life get any better than Fried Pies?!?! Yes, it can! Keto Pumpkin Spice Fried Pies! One weekend my husband was making Apple Fritters, non-keto, and I knew that temptation was going to be hard to resist. So, I decided to try and make Keto Fried Pies. They do take a little patience, because at first I thought this stuff isn't going to hold together, BUT BE PATIENT, because the almond flour does hold together. I was so pleasantly surprised after they were frying up and looking so pretty, yes pretty, lol. Deep fried goodness is always a winner. So, I hope y'all enjoy this recipe and don't give up when you close the dough and it cracks, because it will, just pat it back together and it will work, I promise.
Keto Pumpkin Spice Fried Pies Ingredients:
almond flour
coconut flour
eggs
Pyure
butter
pumpkin pie spice
pumpkin
Swerve Confectioners
There are a variety of artificial sweeteners on the market. I have tried some good, bad and ugly ones, lol. As far as granular artificial sweeteners, I like a sweetener called Pyure. It is a Stevia blend of Erythritol and stevia. It has a grainy texture like real sugar, however too much of it leaves a vanilla taste in your mouth.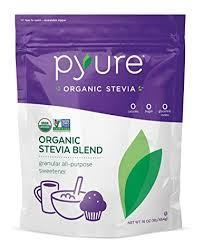 Variety of Artificial Sweeteners
Pyure
Stevia
Splenda
Truvia
Sweet & Low
Equal
My Secret Ingredient!
I'm going to let y'all in on my secret ingredient. It is very hard to find, but so worth the hunt. The first time that I had tasted this secret ingredient was about 20 years ago when my mother went to old Mexico and came back with it. What is really surprising is that we baked with one bottle for a good 20 years and it never did spoil. I have never seen it in any of my local supermarkets and everything written on the bottle is in Spanish, but I'll always recognize the bottle.
So, this past Spring I was at a small nursery buying plants for my garden, a nursery, in a town of less than 2K people and there it set for sale on their shelf, the BEST VANILLA ever! I couldn't believe it! I figured that I would have to go to old Mexico to find it. Amazing!
Try Our Other Keto Desserts:
Recipe:
1 1/2 cup almond flour
3 Tbs coconut flour
2 eggs
1/8 cup Pyure granular sweetener or sweetener of your choice
2 Tbs butter
Directions:
Cream softened butter and sweetener together
Add eggs and whisk together until combined
Add flours and stir until combined well
Roll dough into a big ball and place between to pieces of wax paper
Roll out the dough with a rolling pin until it's 1/4 inch thick
Take a 3 inch glass or cookie cutter and cut out circles
Using a spatula transfer the dough to a greased cookie sheet to wait for filling
After dough is cut, add 1 teaspoon of filling to each circle of dough, I added the filling to the side that I wasn't going to fold over.
Then, carefully fold over your dough, most of mine did crack, but I just patted and lightly pressed the dough back together. It will work and fry great, just wait and be patient, lol
Once you have folded over the dough, press the edges with a fork.
Add about 1/2inch to 1inch of oil to a frying pan over medium heat
Once the oil is hot, with a spatula add a couple of pies to the oil
Pies will brown very quickly, turn over and brown the other side
Place on paper towels to cool
Once the pies are cool add the glaze if desired
Pumpkin Spice Pie Filling
1/2 cup canned Pumpkin
1/4 tsp Pumpkin Pie Spice
1/2 tsp Pyure granular sweetener
Mix above ingredients in a bowl.
Glaze
1/2 cup Swerve Confectioners
4 tsp water
Mix above ingredients in a bowl
Nutritional facts: Recipes makes 9 3inch pies
Each pie has 181 Calories, 13g Fat, 3 Net Carbs