If you need a party appetizer that will be a hit these Avocado Cucumber Shrimp Appetizers are perfect. Plus, if you need a keto appetizer these are keto, low carb, sugar free and gluten free too. The recipe has only a few ingredients and they only take minutes to prepare. So, if you are searching for a quick and easy appetizer recipe this one is definitely both of those. With only a few ingredients and a few minutes in the kitchen and you can have best appetizers ever.
Quick & Easy Keto Appetizers
I create a lot of Keto recipes, plus regular recipes. This recipe is great for those individuals who are on the ketogenic diet, sugar free diet or a gluten free diet. This recipe has no sugar, no bread and almost is carbohydrate free.
Perfect for an all girl's trip too! My daughters and I had never got "away" from home. We have a farm and with all the animals our family hasn't been able to leave for vacation in many years. I have 4 kids, 2 are grown, but all are still at home. So, we have a total of 6 people in our house, which is great! LOL! I'm a stay at home mom and have homeschooled this year for 20 YEARS! Our home is very busy to say the least. We have a farm with milk goats, chickens, LGD's too! When my oldest daughter suggested that we take a trip it sounded like a great idea to me!
Avocado Cucumber Shrimp Appetizers Ingredients: (scroll down for printable version)
shrimp – At the supermarket I found 3 different sizes of frozen shrimp. For these appetizers, I did choose a medium size shrimp and I found that this size worked best too
cucumbers
avocados or prepared guacomole
garlic powder or "garlic herb" seasonings by Kingsford or McCormick
salt
lime juice (optional if you are preparing your own guacamole)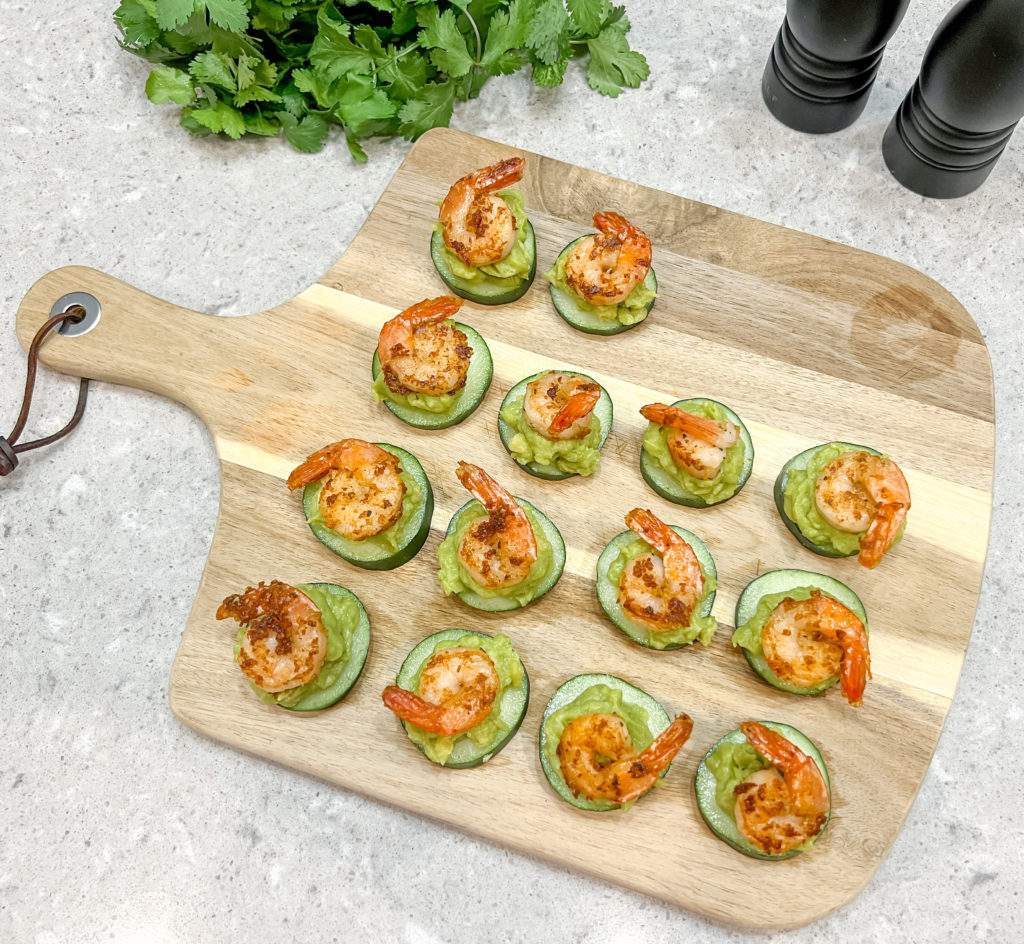 Instructions: (scroll down for printable version)
The shrimp that I had purchased was frozen. So, a couple of hours before I was ready to make these appetizers I took the shrimp and placed them onto a dish to thaw.
To prepare shrimp: take a medium size skillet and heat olive oil
Place shrimp into the skillet and add the salt and garlic powder
Once the shrimp have browned on each side, lay them aside to cool
Prepare avocados with garlic powder, lime juice and salt. Or, another option is to purchase prepared guacamole. I love the choice to buy guacamole already made, especially in the little single serve containers.
Instructions Part II:
Slice up your cucumbers to what thickness that you desire. There is no right or wrong way to slice them, it's a personal preference. But, just be sure the cucumber slice is thick enough to hold the guacamole and shrimp. A slice too thin will fold over and not hold your toppings.
Spread on guacamole and add a shrimp to the top. The amount of guacamole to spread on is another personal preference. The first time that I made these I actually spread on too much guacamole and so when I took a bite the guacamole "squished out". Lol. So, next time I'll spread on a thinner layer of guacamole.
Chill and they are ready to serve. I believe that these appetizers are best served chilled.
These shrimp appetizers are perfect for any Holiday party, a girl's trip or just for anytime! My daughters and I went on an all girls trip and I made these appetizers. We had rented a cabin in Broken Bow, Oklahoma. We live about 3 hours away from there and the cabins are beautiful. It was a special treat for us and we enjoyed a little bit of cooking, LOL.
On about the second day there we decided to run to the grocery store and I had been thinking about this recipe for a while. I decided that this trip would be a great time to try this recipe. This was a treat for my girls and I, because shrimp is not a normal meal for my family.
Don't Like Guacamole? Choose a different Spread!
Cream cheese
Pimento cheese
Ranch or sour cream dip
Gerken pickles
Slice of ham or turkey
Slice of already cooked bacon
Plain slice of avocado
The options are endless. I like to go to the supermarket and just take a look at all the varieties of items. Especially, in the produce departments and the deli departments. The choice of sliced meats and cheeses in the deli are listless. So, take a stroll thru the supermarket when you are not shopping for a lot of items. I like to look around when I don't have a huge list of things to buy, so I can just look, LOL.
TIPS!
You can prepare homemade guacamole or you can buy already prepared guacamole
If you don't want guacamole on your appetizers, then you can take an avocado and smash it up or slice it up and don't add any seasonings to it.
Don't add too much guacamole to each cucumber or you will need a plate and fork, LOL
Seasonings on the shrimp can vary. For example, at your local supermarket there are varieties of "Garlic Herb" seasonings such as Kingsford or McCormick. I have tried both of these and they taste great.
The smaller shrimp are best for these appetizers
Chill and serve the same day
Yield: 15-20 shrimp
Avocado Cucumber Shrimp Appetizers
Here is the perfect appetizers for any party that is sure to please everyone!
Prep Time 10 minutes
Cook Time 5 minutes
Total Time 5 minutes
Ingredients
15-20 small shrimp
1 cucumber
Buy Prepared guacamole or take 2 avocados (1/2tsp garlic powder, 1/2tsp lime juice & 1/4tsp salt)
2 T olive oil
1 T garlic powder or "garlic herb" seasonings
Instructions
Preheat olive oil in a medium size skillet
Place shrimp in pan and add seasonings
Brown shrimp on both sides and set aside to cool
Cut cucumbers
Optional - prepare guacamole - 2 avocados, 1/2tsp garlic powder, 1/2 tsp lime juice, 1/4 tsp salt)
Or buy already prepared guacamole
Spread guacamole onto each cucumber
Add one shrimp to the top of each appetizer
Chill and Serve the same day
Try Our Keto Recipes!
Caprese Stuffed Chicken Breasts
Easy Keto Quesadilla Crunch Wrap
Keto Cheesy Ranch Chicken Taquitos
Try Some Other Keto Desserts!
Party Appetizers:
New Year's Day or New Year's Eve
Valentine's Day for your sweetheart
Memorial Day
4th of July
Thanksgiving's Day
Christmas
Wedding Showers
Baby Showers
Bridal Showers
Anniversary parties
Graduation parties
Birthday parties