I'm in love with keto chocolate fudge cake. So, I turned my keto chocolate fudge cake recipe into muffins or you could even call these keto cupcakes! I don't feel like I'm dieting at all, especially when I can have chocolate and cake without all the guilt. The only guilt is when I go back for seconds and with these muffins that is hard not to do.
No Guilt Muffins/Cupcakes!
Every time that I make this recipe I am amazed how good of a cake/muffins/cupcakes these are! The cake is moist and the buttercream frosting is so rich and decadent. And, even more amazing is that there is no guilt, because this cake and frosting recipe is sugar free, gluten free and low carb. Because, with these type of recipes there is hope for the diabetic who can not have sugar or for the person who is gluten intolerant. And, for those individuals who are on the Ketogenic diet or low carb diet this is perfect for those individuals too!
Coconut Flour vs Almond Flour
These keto chocolate cake muffins are keto, low carb, sugar free and gluten free.  The muffins have both almond flour and coconut flour, but without a coconut taste.  And, if the ratio is not correct it could be awful, LOL, I have found this out the hard way. One morning, I was going to make my family some biscuits. I was making a recipe that was keto, which is gluten free. This recipe called for coconut flour and I do believe that this was my first time baking with coconut flour. Needless to say, I made my biscuits and baked them as directed. The biscuits tasted like coconut! Yuck! No one in my family ate them and so, I didn't have a great attitude towards coconut flour. BUT, I learned that coconut flour is wonderful if it is the right ratio to almond flour. Because, the texture of coconut flour is finer than almond flour without the grittiness of the almond flour. SO, TOGETHER they work out perfectly for this cake.
I believe that these keto cake muffins are actually moist and not too dry. Sometimes, with almond flour, a cake or biscuit can be gritty like a cornbread texture, but this mixture of almond flour and coconut flour is just perfect.
It's All About The Buttercream Frosting!
This buttercream frosting is the best keto frosting that I have ever tasted! It is so decadent that I cannot believe that it is sugar free! Usually, my cakes have a cake frosting ratio that is more frosting than cake! But, that is OK!
Below is a pic of the Keto okie twister chocolate cake
This cake has the same recipe, but with different toppings added to the top of the cake. It is the same cake and frosting recipe, but on the below cake I added pecans, sugar free chocolate chips and toasted unsweetened coconut to the top of the buttercream frosting.
The sweetener in these keto chocolate cake muffins that I chose was Pyure. Pyure is a stevia blend and I actually believe that its' taste is close to sugar. Pyure comes in 2 forms, granular and confectioners. For this recipe, the granular is what I have chosen. My mom who is a diabetic has always baked and sweetened with Splenda, but when I began the ketogenic diet I wanted something a little closer to the texture and taste of real sugar and Pyure was it for me. However, when it comes to confectioners powdered sugar and brown sugar I like to buy the brand Swerve. The Swerve brown sugar is rich and decandent for all my desserts, especially cinnamon rolls that I make with low carb tortillas! YUM! For an easy, easy keto cinnamon roll, take a flour tortilla, spread on 1/2 tablespoon of melted butter and 1 tablespoon of Swerve brown sugar, roll it up and brown in a skillet with a little butter. So delicious!!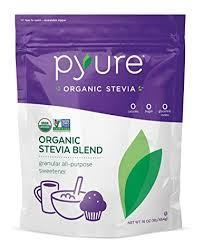 LIKE our Facebook page to never miss any recipes!
Keto Chocolate Cake Muffins Ingredients: Scroll down for full recipe
almond flour
coconut flour
cocoa
Pyure sweetener or sweetener of your choice
baking soda
baking powder
salt
coconut oil
vanilla
eggs
water
Frosting Ingredients:
sugar free chocolate chips
butter
vanilla
The frosting on these muffins is quick and easy. The recipe calls for sugar free chocolate chips. I have found a couple different brands of sugar free chocolate chips. Some have aspartame and one is made with stevia. To make the frosting you will melt the chocolate chips and butter in a glass bowl. After the chocolate chips and butter are melted then add the vanilla and Pyure. Then place the bowl into the refrigerator and the mixture will firm up. This usually takes 20 to 30 minutes. But, once the mixture is firm, take a hand mixer and beat until fluffy. The frosting is then ready to spread on top of cooled muffins.
Frosting Substitutions:
instead of frosting, add pecans, unsweetened coconut and sugar free chocolate chips
make a glaze from a confectioners sugar and water. I use Swerve Confectioners sugar.
add unsweetened coconut and sliced almonds
mix walnuts in with the frosting
add sugar free white chocolate chips to the top of the cake
add cherry extract to the frosting
Tips:
Bake in cupcake tins for portion control
Bake in mini cupcake tins for better portion control, lol
These muffins can be frozen, both cake and frosting freeze perfectly. They thaw and taste great!
Try Our Other Keto Desserts:
RECIPE BELOW:
Yield: 24 muffins
Keto Chocolate Cake Muffins
This Keto cake is delicious with it's award winning Keto chocolate buttercream frosting. This recipe is keto, low carb, gluten free and sugar free.
Prep Time 20 minutes
Cook Time 30 minutes
Total Time 50 minutes
Ingredients
Muffins
1/4 + 1/8 cup almond flour
1/4 + 1/8 cup coconut flour
1/3 cup Pyure granular sweetener or your choice of sweetener
1/3 cup cocoa powder
1/2 tsp baking soda
1 tsp baking powder
1/4 tsp salt
1/3 cup coconut oil
1 tsp vanilla extract
2 eggs
2/3 cup water
Buttercream frosting
3/4 cup butter
1 cup sugar free chocolate chips
1 tsp vanilla extract
1/8 cup Pyure granular sweetener or your choice of sweetener
Instructions
Muffin Instructions:
Start by mixing all the almond flour, coconut flour, sweetener, cocoa, baking powder, baking soda, and salt.
In a separate bowl, mix your coconut oil, eggs, vanilla and water. Make sure to beat it well.
Slowly add your dry ingredients to your wet ingredients and mix well.
Pour mixture into well greased muffin pans or in muffin tins
Cook on 350 degrees for 30 minutes or until a toothpick inserted into the middle a muffin comes out clean
Set muffins aside and let it cool.

Buttercream Instructions:
In a microwave safe bowl, melt your butter
Add chocolate chips and stir until melted
Add Pyure and vanilla and stir well. Place bowl in the fridge until the mixture is almost solid again
Once it is almost solid beat it with a hand mixer until light and fluffy
Frost the cooled muffins and place muffins unto refrigerator
Perfect Keto Muffins or Keto Cupcakes For Your Next Party or Event:
New Year's Day or New Year's Eve
Valentine's Day for your sweetheart
Memorial Day
4th of July
Thanksgiving's Day
Christmas
Wedding Showers
Baby Showers
Bridal Showers
Anniversary parties
Graduation parties
Kid's birthday parties
Birthday parties