Now you can have your raspberry cheesecake and brownies at the same time! These Raspberry Swirl cheesecake Brownies are the perfect dessert for any occasion. A fudgey brownie with a cheesecake filling swirled with red raspberry jam.
These brownies may look intimidating, but trust me, they are actually very simple to make!
It all starts with a fudgey brownie for the bottom layer. My Easy, 1 Bowl Brownies is perfect for this! Then we mix up a super quick and easy Cheesecake filling and pour that over the brownie batter. Lastly, you will swirl some Red Raspberry Jam on the top before baking.
You could definitely use a boxed brownie mix if you want to, I have made them with one before and they turned out just perfect! Just do whatever makes it easier on you!
I used a seedless red raspberry jam, because I prefer that over the one with seeds, but you could definitely use either!
If you are a brownie lover, like myself, than you will definitely want to try my Cookies and Cream Oreo Brownies! They are the best!
But, back to these Raspberry Swirl Cheesecake Brownies! Not only are these brownies a delicious dessert, they also make for a very beautiful dessert.
Try some of our other Easy Recipes!
Follow us on Facebook, Instagram, Pinterest & TikTok for more Recipe Ideas!
PIN this recipe to save for Later!
Tips
Do NOT over bake! This is probably the most important tip. If you over bake the brownies, they will dry out and not be moist and fudgy. They will continue to bake in the pan even after you take them out of the oven, so you can pull them out just a tiny bit before they are completely done. Bake them until a toothpick inserted in the brownie part only comes out with just a few crumbs on it.
The Cream Cheese is best if set out on the counter 1 – 2 hours before you are ready to mix up these brownies. If it's just been taken out of the refrigerator, it's too hard to mix.
Line the bottom of your pan with a piece of parchment paper and spray it with cooking spray. This makes for the easiest way to remove the brownies from the pan and easy clean up!
For the easiest and cleanest cuts, make sure that your brownies are completely cool before cutting them. You can let the brownies cool on the counter for like 15-20 minutes and then pop them in the fridge (if your like me and in a big hurry, pop them in the freezer) until they are fully set.
Questions about Raspberry Swirl Cheesecake Brownies
Can I use a Boxed Brownie Mix? Yes, you definitely can! You can use your favorite brownie boxed mix that you like and the brownies will turn out just fine!
How do I store Brownies? If not serving right when the brownies are cooled, I think it's best to keep them in the fridge since they are cheesecake. I've seen others say you can keep them on the counter for 2 days, but I'd store them in the fridge in an airtight container. They last about 5 – 7 days in the fridge.
Can you freeze brownies? Yes! You can definitely freeze them. Just make sure that they are completely cooled before you are ready to freeze them. You can either stack them in an airtight bowl or plastic baggy with wax paper in between each layer of brownies to prevent them from sticking together. That way you can just grab a couple and thaw as needed.
Should I use a metal or glass baking dish? You can easily use either. I usually use a non-stick metal baking dish for mine. If you do use glass, you may need to increase the baking time by a few minutes.
Do I have to use the Raspberry Jam or can I use fresh raspberries? I have never tried these brownies with anything other than the jam. I have seen other people take fresh or even frozen raspberries and make a spread with them, but I haven't ever tried that.
How to Make Raspberry Swirl Cheesecake Brownies
In a large mixing bowl, mix the brownie batter according to the directions. Pour brownie batter into a 9 x 13 pan that has either been sprayed with cooking spray or has a piece of parchment paper in it that has been sprayed.
In another bowl, add and mix the cheesecake filling ingredients with a hand mixer. Beat until very well combined.
Spoon the cheesecake filling over the brownie batter
Gently try to smooth it out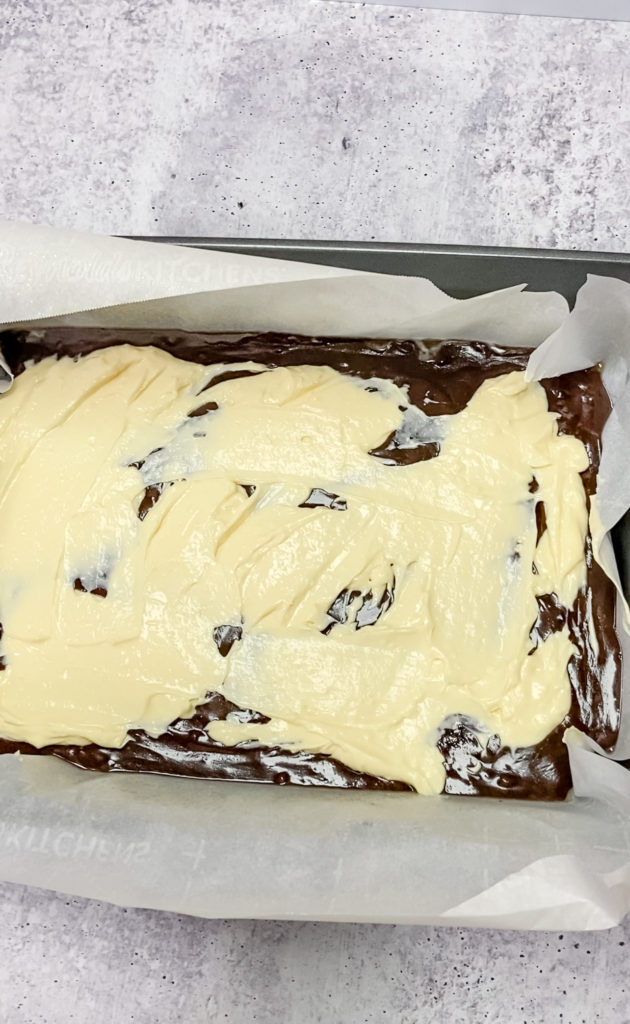 Spoon on the raspberry jam
Swirl everything together with either a butter knife or a toothpick.
Bake! Wait until completely cool before cutting!
Raspberry Swirl Cheesecake Brownie Recipe
Yield: 20 Brownies
Raspberry Swirl Cheesecake Brownies
Fudgey brownies layered with a cheesecake filling swirled with just the right amount of raspberry jam equals the perfect dessert for anytime!
Prep Time 10 minutes
Cook Time 35 minutes
Total Time 45 minutes
Ingredients
Brownie Layer
1 C Unsweetened Cocoa
2 C Sugar
1 C All Purpose Flour
1 tsp Baking Powder
1/4 tsp Salt
1/2 C (1 Stick) Butter (melted)
2 Eggs
1/4 C Vegetable Oil
1/4 C Water
2 tsp Vanilla
1 C Semi-Sweet Chocolate Chips
Cheesecake Layer
8 oz Cream Cheese (softened)
1/2 tsp Vanilla
1 Egg
1/4 C Sugar
Raspberry Layer
Instructions
Preheat oven to 350°
Start with the brownie layer, in a large mixing bowl, add in your cocoa, sugar, flour, baking powder and salt. Mix well.
Add in your butter, eggs, oil, water and vanilla. Mix very well and make sure that the ingredient are thoroughly combined.
Add chocolate chips and mix them in.
Line a 9 x 13 baking dish with parchment paper. Spray the paper with cooking spray. Pour the batter into the pan and smooth out.
For the cheesecake filling, in a large mixing bowl, add cream cheese, sugar, vanilla and the egg
Beat with a mixer until combined very well
Spoon the cheesecake filling over the brownie batter and try to smooth it out gently.
Add the raspberry jam on top with a spoon and swirl it together with either a butter knife or toothpick.
Bake for 30 - 35 minutes or until done
Notes
The middle of the cheesecake may be slightly jiggly when it's done, but will set up once it's completely cooled.
Don't over bake as that will dry the brownie out, you should be able to stick a toothpick into a part with just brownie and the toothpick come out with a few crumbs on it when they are done
You can use either seedless or seeded red raspberry jam
We'd love to see your dessert! If you make these Raspberry Swirl Cheesecake Brownies or a different recipe from our blog, be sure to tag us @thelazyKkitchen on social media so we can see your awesome creations!